Surimi Crab Salad With Snow Peas and Water Chestnuts
gemini08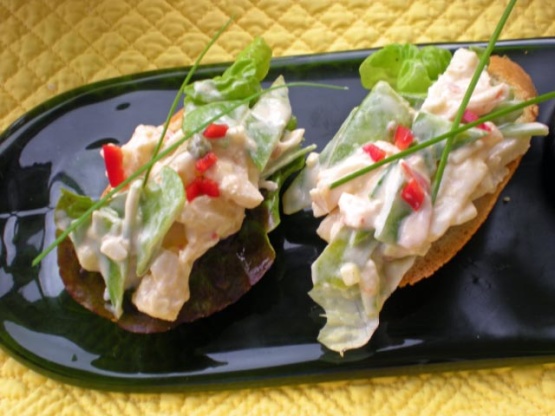 A creamy seafood salad with sweet snow peas, pineapples and crunchy waterchestnuts in a tangy yoghurt – horseradish dressing. Mount it on slices of baguette and serve it as tapas with a glass of Spanish Sherry or put it on a bed of lettuce and enjoy as refreshing summer lunch with a glass of fruity wine. Serves 4-6 as appetizer or 4 persons for lunch. Cooking time is chilling time
In a glass measuring cup whisk mayo, yoghurt, horseradish, lemon juice and sriracha together, add grated ginger, cover and refrigerate until needed.
Open the package of imitation crab meat and with two forks tear the pieces into strings to resemble natural crab meat, put into a bowl.
Remove the dressing from the fridge, pour over the crab pieces, mix well, taste for seasoning, cover and refrigerate.
Remove ends and strings from snow peas, put a steamer basket over boiling water, steam snow peas for one minute, remove and plunge into ice water to set the color. Remove, pat dry and slice on the bias into julienne strips, put in a large salad bowl.
Open the can of water chestnuts, drain and pat dry. Stack the slices and cut into match sticks, add to the bowl with the snow peas.
Open the can of pineapple chunks, drain well, reserving juice for another use, add to the bowl with the veggies. Remove seeds from the jalapeno, mince and add to the bowl as well, mix.
Take the crab salad from the fridge, fold the veggie medley in, use as much of it as desired, mix well; add salt and more lemon juice if needed. To serve, line salad plates with lettuce and mount the crab salad on top, sprinkle with minced jalapeno.