Super-Easy Chocolate Ganache or Gelato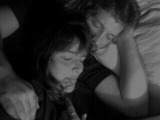 You have two choices here: Either refrigerate this as a Ganache and use it to make truffles or to frost cakes, or opt to add a couple more ingredients and turn it into a delicious creamy chocolate Italian ice cream (aka Gelato). Enjoy cocktails? try Morta De Chocolata Gelatini (Death by Chocolate Martini) using the gelato from this recipe. :)
Directions
Place heavy cream, butter, and sugar in a small saucepan over medium heat. Cook, whisking constantly, until just simmering and sugar is dissolved.
Remove from heat and add chocolate and vanilla extract. Stir well until smooth and chocolate is melted through.
FOR GANACHE: Let cool, stirring occasionally. When cooled completely, refrigerate until needed. You can make truffles by scooping out little melon-sized balls of ganache and roll in coconut, cocoa powder, or chopped nuts. To make cake icing, beat mixture until thick and creamy, to your desired spreading consistency.
FOR GELATO: Let cool, stirring occasionally. When cooled to room temperature, add eggs and milk, whisking to incorporate. Return to a medium heat and cook, while continuing to stir or gently whisk, until warmed up again.
Remove from heat and let cool, stirring occasionaly. When cooled to room temperature, place in a freezer container and freeze for at least 2 hrs before serving.
Reviews
Most Helpful
Holy chocolate nirvana. Twenty stars. Made the gelato and it was just delightful. Very creamy. Will make again, but not often as this is ultra-decadent. Followed directions with no changes and this recipe is just a winner. Thanks for a great one!
This was awsome!! i needed a ganache for my cake topping,& this worked wonderfully, i had some left over & made truffles with it, I have never made truffles & surprised myself. thanks so much.
Great for kids with a chocolate addition, young and old. I made this as a gelato. Used vanilla extract also as an option. Great taste and flavors. Glad that everyone saved one for me. Made for PRMR tag.