Pamela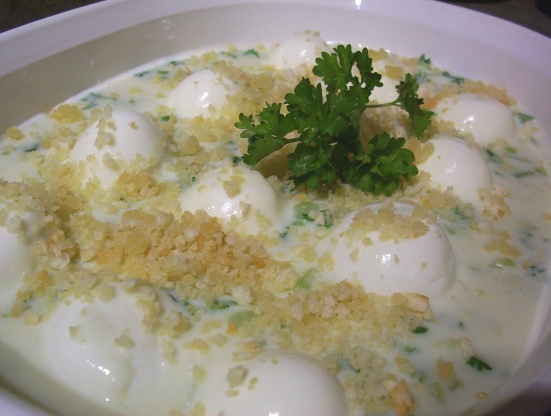 This is a recipe from the wife of the Pastor who married us. I have served it for brunch twice and it is very popular.

Pamela this made a very nice change for Sunday breaky. I cut the recipe in half and served it on toast. Actually I made it up last night and just popped it in the oven this morning. The only changes I made were that I used 1% milk and instead of bread crumbs I used wheat germ. It turned out great and had a nice thick richness to it, even with the 1% milk. The only problem I ran into was not the fault of the recipe, got a little frustrated peeling the eggs last night, they were very fresh and very difficult to peel, some of the white came away with the shell, they didn't look great but it didn't matter, they were covered with the sauce anyway. Thanks for sharing.
In a saucepan, saute celery and onion in margarine.
Blend in flour.
Cook and stir until bubbly.
Add salt and milk and cook until thick.
Stir in chopped parsley.
In a greased casserole, place hard boiled eggs, cut in half and round side up.
Pour sauce over eggs.
Toss mixture of melted margarine and bread crumbs over top.
Bake at 400 degrees for 15 minutes (Optional-serve over Spinach leaves.).