Hey Jude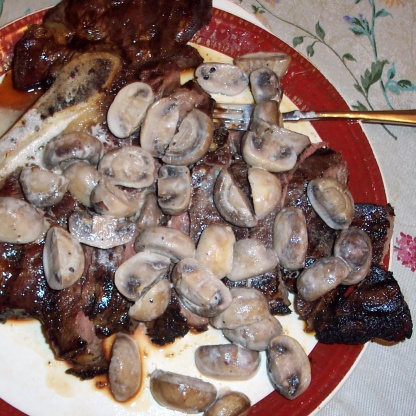 Tasty mushroom and steak dish. I found this in a 50's cookbook, and have been making it for a long time. Prep time does not include 2 hours marinating time.

This was an excellent way to cook boneless top sirloin steak. I don't know if that's what you had in mind for sirloin steak, but that was what was on sale and I searched for a recipe to use. The steak was very tender. I cooked it "medium" on the grill and it was very juicy and tender. When I heat the leftovers (my husband is just having the steak and not the sauce with his breakfast this morning), I will cut the mushrooms smaller and thicken the sauce with a little flour. You certainly have a winner! Thanks for posting.
Brush both sides of steak with olive oil.
Sprinkle with 1/4 teaspoon of salt and 1/4 teaspoon of pepper.
Place in shallow dish and pour Worcestershire over, rubbing to cover all the meat.
Cover and refrigerate for 2 hours, then grill.
In a large skillet melt butter over medium heat.
Add mushrooms, 1/4 teaspoon salt and 1/4 teaspoon pepper.
Cook for about 5 minutes until just tender.
Stir in half and half or cream.
Bring to boiling, immediately reduce heat.
Simmer uncovered for about 10 minutes or until slightly thickened.
Keep warm while grilling steak to desired degree of doneness.
Serve mushroom sauce with steak.