Sugar Cookies - No Break, Fail-Safe and Foolproof
AngelaTN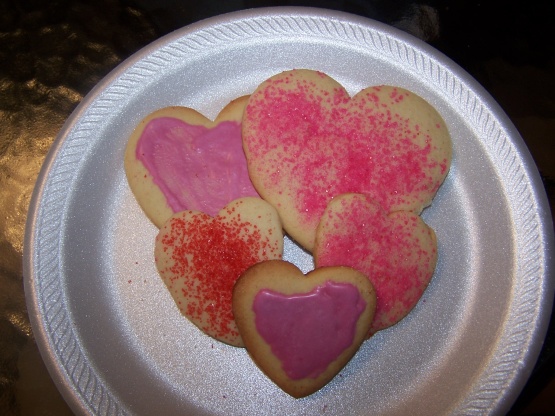 Are you tired of sugar cookie dough that will not roll out properly? Dough's too sticky? That won't cut-out properly? Are you tired of sugar cookies that are too fragile to decorate? If so, then this is the recipe for you. I have the world's worst luck with sugar cookies. 3 years in a row I had great intentions of making cutout sugar cookies for my Christmas baskets. Inevitably, I failed. One year, the dough was way too sticky. Another, the cookies just feel apart. Then I found this recipe. These cookies roll out and cut beautifully, they bake evenly, and they are sturdy enough to frost and decorate yet still taste heavenly. Even my 3yo could not mess these up! And yes, I checked this against all the other sugar cookie recipes on this site -- it's different. And delicious!

Finally...a cut-out sugar cookie success!! Like Angela I have tried many a recipe to only spell FAILURE! Thank heavens I tried one more time. Made this recipe yesterday as a good cut-out cookies is tradition for Christmas. They looked beautiful and tasted really good. Thank-you for submitting this recipe it will now be a tradition every year in my home.
In a bowl, cream the butter and sugar.
Beat in the eggs and vanilla.
In a second bowl, combine the flour, baking powder and salt.
Sift flour mixture into butter mixture 1 cup at a time and blend well.
Roll dough into ball and chill 3-4 hours or overnight.
When ready to prepare cookies, preheat oven to 350°.
Roll out dough and cut into shapes.
Brush with milk and sprinkle with colored sugar or candies if desired (or frost cookie once baked and cooled).
Bake at 350° for 10-15 minutes.
Remove cookies to a rack to cool completely.