Stuffed Pasta Shells for Meat-Lovers
Jessika6958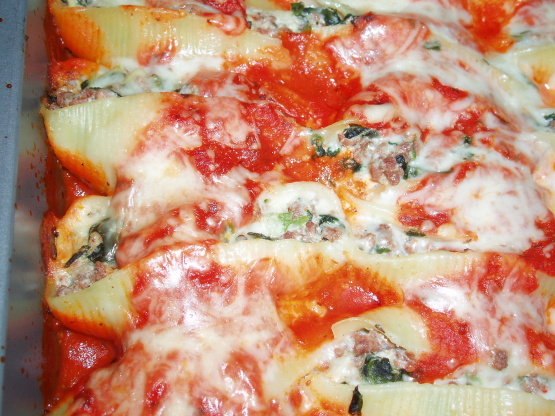 These are quite possible the best you can make! I came up with this recipe to satisfy my carnivorous family and incorporate my love for Italian food. These have a ton of meat, but still a nice amount of the traditional ricotta cheese and spinach. These can also be great appetizer, due to the large amount the recipe yields.

This does make a huge amount! Turned out delicious though, and there's a lot of room to experiment with sauces and spices. I ran out of italiano cheeses, so I used old cheddar on my second pan, and since I was feeding a group of "growing boys" both pans were demolished. Everyone seemed to like the cheddar topping better, so definitely play around with your cheeses too. Excellent!
Brown ground beef and drain. Return to pan.Saute onions and garlic in pan with cooked meat for approximately 3 minutes. Set aside.
Boil salted water to cook the pasta shells according to package al dente style. Strain and set aside.
In a large bowl, mix ricotta, parmasan, and 2/3 package of shredded mozzarella. Add italian seasoning, garlic pepper, eggs and milk and mix thoroughly. Mix in meat and spinach.
In a large baking dish, pour enough sauce to cover the bottom of the pan lightly. Fill each shell with large rounded tablespoons of meat and cheese mixture, and place in pan. Be sure to closely place the shells together so they don't get hard while baking.
*If there are too many shells for one pan, make a secong and store tightly covered in freezer until later use.
Pour remaining sauce evenly over all of the shells. Sprinkle with remaining mozzarella cheese. Cover tightly with aluminum foil, and bake at 375 for 35-45 minutes. Take foil off pan, and bake additional 10 minutes.