Lainey39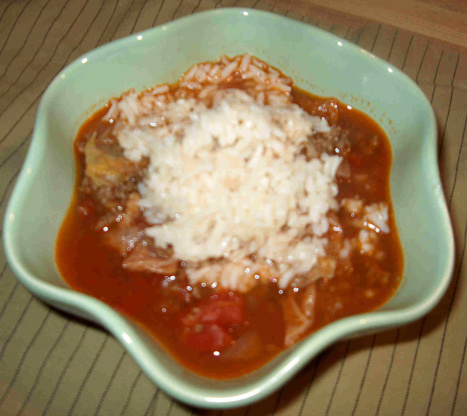 I was watching Rachael Ray the other day and wanted to save this recipe. It sounds delish! Update: I have since made this stoup since posting and I really love it. The flavor of the coriander and paprika are delicious. One thing I did that Rachael suggested on the show is to actually add the rice to each bowl when you serve it. That way it won't soak up all the broth, particularly when you have leftovers. That is, if you have leftovers!

I was not impressed which is unusual because I generally like Rachael Ray's recipes. I found it to be too brothy and not loaded with flavor.
4

tablespoons extra virgin olive oil, divided

1

cup raw white rice

1

quart chicken stock (plus 2 cups)
1 1⁄2 lbs ground meatloaf mixture (a combination of beef, pork and veal)
1⁄2 teaspoon allspice
1 1⁄2 teaspoons coriander

2

teaspoons smoked paprika (or sweet if you can't find the smoked)
salt, to taste
pepper, to taste

1

bay leaf

1

onion, chopped

2

garlic cloves, minced

1

carrot, thinly sliced with a vegetable peeler into strips, then finely chopped
1⁄2-3⁄4 head savoy cabbage, thinly sliced

1

(28 ounce) can tomatoes, diced

1

cup tomato sauce
1⁄4 cup flat leaf parsley, chopped

3

tablespoons dill, finely chopped
Heat a sauce pot over medium-heat 2 T olive oil.
Add the rice and toss to coat in oil.
Add 2 cups chicken stock, bring up to simmer.
Cover and cook for 16-18 minutes or until the rice is tender.
Heat a deep pot over medium high heat.
Add the remaining olive oil, once hot add meat and begin to brown, 2-3 minutes.
Season the meat with allspice, coriander, smoked paprika, salt and pepper.
Add bay leaf, onions, garlic and carrots.
Cook veggies 2-3 minutes to begin to soften them, then add cabbage and wilt it down a bit.
Add tomatoes, tomato sauce and remaining stock and cover the pot.
Raise the heat to high and bring the soup to a simmer.
Simmer for about 10 minutes.
Once the rice is cooked, add to the soup and continue to simmer for 2 to 3 minutes.
Stir in parsley and dill, adjust salt and pepper to your taste and serve.