Kim127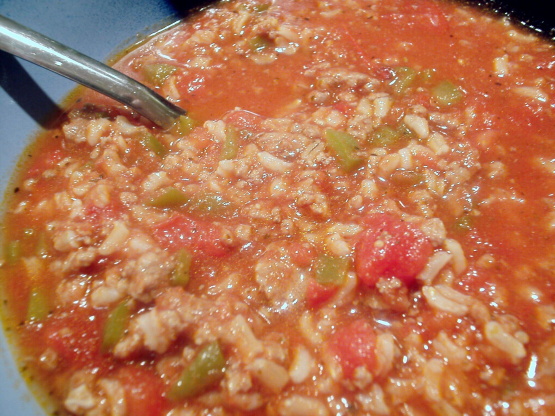 I love stuffed peppers but hate all the work. This is a stew that takes like stuffed peppers. We love this stew!

Top Review by Kim127
Nice filling soup! I was able to use 4 small green peppers from our garden to make this. I only had one can of tomato sauce so I added a small can of tomato paste and one small can of water. Also instead of canned diced tomatoes I uesed about 1 1/2 cups of fresh diced tomatoes. Great topped with the mozzarella cheese.
In a Dutch oven brown beef and drain off fat.
Add the peppers to the browned meat and sauté for 3-5 minutes.
Cook rice following instructions on box.
Stir in the rest of the ingredients accept the rice. Reduce heat to low, cover and simmer for 30 to 45 minutes. Stir in rice and heat through.
Pour into bowls and top with mozzarella cheese if desired.