Hungarian Letcho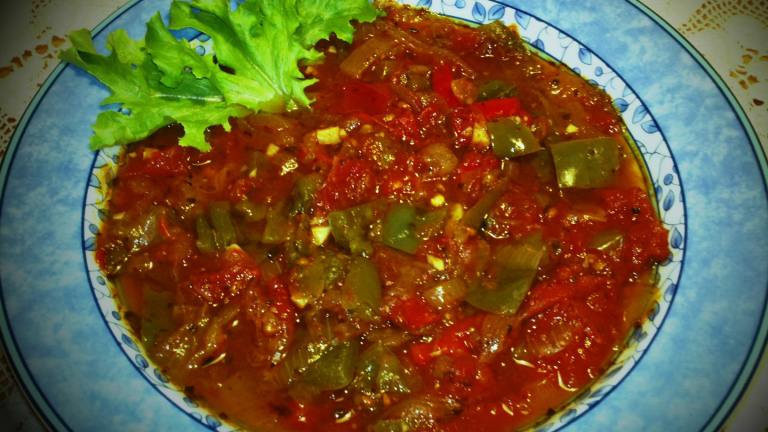 A rich Green Bell Pepper stew. Very warming on a cold day. It comes from Hungary and is a typical peasant meal.
Ready In:

1hr 10mins

Serves:

Units:
Nutrition Information
directions
In a large frying pan, saute the onions& garlic in olive oil, until limp, approx 2 minutes.
Add sliced sausage& chilli and cook, mixing with onions& garlic for approx 5 minutes.
Add bell peppers and mix well with onions, garlic& sausages.
Add salt and pepper, to taste.
Turn heat down and add Tomatoes.
Let simmer until the peppers are soft.
Keep simmering for a further 2 minutes and serve with rice or mashed potatoes.
Submit a Recipe Correction
RECIPE MADE WITH LOVE BY
"A rich Green Bell Pepper stew. Very warming on a cold day. It comes from Hungary and is a typical peasant meal."
Join The Conversation
Not bad, but Paprika is ubiquitous, so why not use it? It comes it both hot and sweet varieties if you buy the Hungarian ones in supermarkets. If you want the perfect sausage for this dish, look for Bende Kolbasz. It is sold directly from Bende, but also available though several local and online Hungarian deli's. The deli I use is in Florida and mails things in styrofoam containers with cold packs to keep things cold. But there are many other options, and using a deli allows you to buy other ingredients that may be hard to find in a supermarket. I don't peel the tomatoes, but if you don't, you have to cut the tomatoes into much smaller pieces or you get wads of chewy tomato skins. It's just unpleasant that way. I also use about equal portions of tomatoes and peppers, and about half as much onions, so the ratio is 2:2:1, tomato, peppers, onions. The way I make it at home is with about a cup or two of rice added (depends on how much I made), and add kolbasz to taste. When I don't have kolbasz, Cajun sausages will do nearly as well (andhuille?). I also add lots of crushed garlic at the end of cooking (don't cook it to death or the flavor is gone), and when I'm feeling creative, I add ginger to the onions during the sweat. Ginger is a great addition. Also, don't be sparing with paprika, I add it by tablespoonfuls (the mild). Kashmiri peppers (available dried in Indian specialty stores) are exactly like I remember Paprika in Banat area of modern Romania, it has a mild warming heat, not a choking heat like cayenne.

It's nice to have this recipe available for everyone, not just Hungarians. I made this for a friend who is allergic to peanuts and just about every other food in the world and he was about ready to propose marriage! When I make it I use waay more onions, and about equal amounts, volume wise of onions, peppers, and tomatoes. My husband and I go on a marathon of chopping, we set up 4! frying pans to start the onions and green peppers toasting with the overhead fan going full blast. We deglaze each pan with Sutter Home wine (just a spash in each) because we prefer regular pans to get some nice fast browning on the onions which means, you must deglaze. If you use nonstick pans, it will take you forever to brown the onions slightly. Anyway, we take a tiny break and wipe our eyes while the onions start to heat up, then chop the tomatoes and the rest of the peppers. Put the peppers in a stockpot with a drop of oil and the lid on so they steam cook. Add the onions and tomatoes to the stockpot, add any spices, and let it bubble slowly for at least 2 hours. When everything is nice and soft, we crush the veggies against the side of the pot with a slotted spoon (metal spoon) to thicken the stew. At this point we bring the temperature all the way up to a bubble again (if needed) and add chopped (not crushed) garlic cloves (for 3/4 of a stockpot, we add about 12 cloves), then immediately turn off the heat and remove the stockpot to a different burner because we have an electric stove. The garlic shouldn't be cooked to death. Bay leaf and marjoram are allowable herbs in this dish, but many people leave them out. I like to use andhouille sausage if I can't get real kolbasz, but you can find lots of Euro markets that carry hungarian kolbasz these days if you look. My mother used polish keilbasa and it was fine. We also added a bit of cooked rice at home. I now add cooked brown rice and it's still just as good. There are other allowable adjuncts to the dish: eggs, ham, crutons, etc. Experiment and find something you like. Letcho is also an ingredient in many Hungarian dishes. It's always best to use fresh peopers and tomatoes, but in the winter, when you couldn't get it, canned letcho was used instead. Then it became a traditional additive. Try it in a braised meat dish, you might like it.