IngridH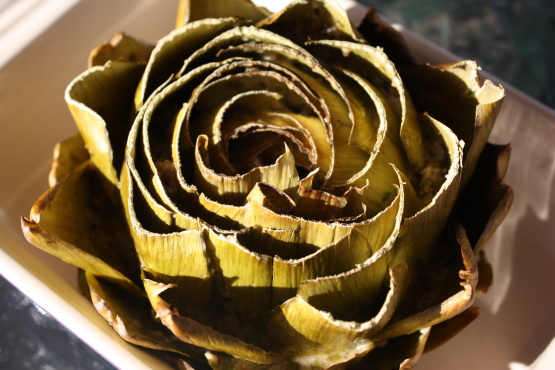 Woman's World Magazine 5/2/00. Melted butter, minced garlic, toasted bread crumbs, mozzarella and Parmesan - this stuffing will turn you into an artichoke lover this spring for sure! It can be served as a first-course or a side dish. A must-have on our Easter table for as long as I can remember.

These turned out perfectly! Awesome recipe. I followed it to the letter, and this was a whole meal for me, but I served it along with roasted potatoes for my family. Thanks for sharing. :)
With sharp knife, cut about 1 inch off tops of artichokes. With scissors trim tips of remaining leaves. With spoon scrape out fuzzy choke. Rub all cut edges with lemon.
Mince 2 cloves garlic; in small bowl combine with bread crumbs, mozzarella, Parmesan, butter, parsley, salt, and pepper. Spoon mixture in between leaves and into centers of artichokes.
Fill a large pot just wide enough to hold artichokes upright with 1 inch of water; add remaining garlic. Place artichokes, crumb side up, in pot.
Over medium-low heat bring water to a simmer. Cover; cook until artichoke bases are tender, 35-45 minutes.
Meanwhile, position oven rack about 8 inches from heat source; preheat broiler.
With slotted spoon, transfer artichokes, upright, to 8-inch square baking dish. Broil until tops are brown, 4-6 minutes.