Shari2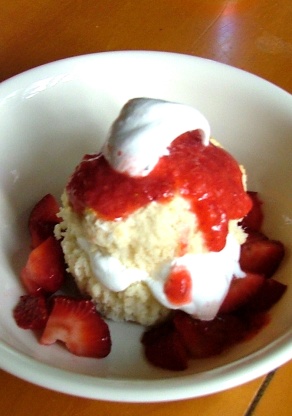 Light mouthfuls of shortcake, with the refreshing slurp of whipped topping and fresh berries, is perfect for a summer night.

Top Review by Shari2
I loved the little shortcakes from this recipe. I will make this again but I will add some sugar to the strawberry puree and the chopped strawberries. I did cheat and use Cool Whip instead of making my own whipping cream. Reviewed for PAC Spring 2008.
Preheat your oven to 425.
Put paper cupcake molds into your cupcake pan.
Mix together your flour, sugar, and powder well.
Add your soft butter.stir.add your buttermilk (or milk).
Pour into 6 paper cups.
Let them cook for 10 minutes, until a toothpick comes out clean.
Pull out half your berries, and chop them (these are the garnished ones).
The other half should be pureed in the blender with a drizzle of water.
Whip your whipping creme until it forms peaks.
Take your shortcake, remove the rapper, cut in half, add a dollop of creme. Put on top, but some strawberries cut up around the shortcake, and drizzle some strawberry puree on and around your shortcake.
Bon appetite.