Strawberry Salad With Olives, Blue Cheese and Balsamic Vinegar
Thorsten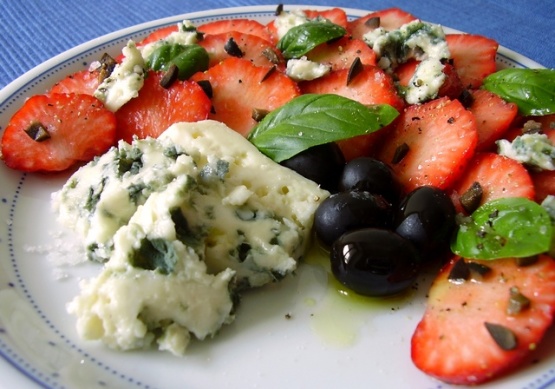 This is just fabulous! What a great way to start a spring meal this topped on fresh crusty bread.

This salad is one of the most delicious combination. Full riped strawberries, Kalamata Olives and your favorite blue cheese together with a delicate vinaigrette. I loved it. You can prepare the recipe for 1 serving or for many more. It is easy and fast to prepare. And the taste is convincing everybody. I like it especially for being a light dish with some of the most exiting flavors. Your taste buds will be pleased. and your guests, too. A real keeper.
Rinse and slice the strawberries and arrange them in overlapping slices on a plate. Moisten with the two vinegars, season with the pepper, sugar and salt, sprinkle with olives, torn basil leaves, blue cheese and sprinkle all with the olive oil.