Marlitt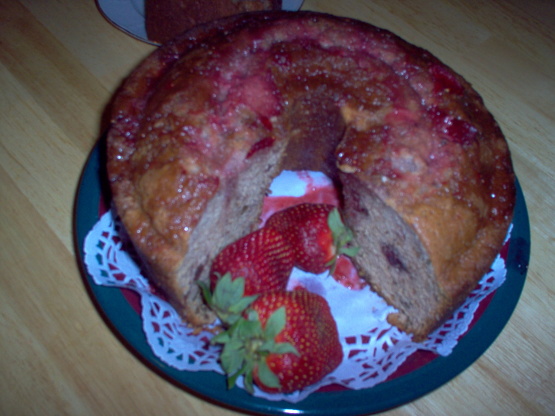 This pound cake has strawberries baked in the cake and is also brushed with a warm strawberry glaze after it comes out of the oven. Wow, is this good! Recipe from Taste of Home.
Very good pound cake It had a very nice strawberry flavor. I baked ot 68 minutes and it was a little dry. I suggest around 60 minutes. I did use Splenda and the sweetness was just right. It was more like a regular cake than a pound cake but I will make it again.
Drain thawed strawberries, reserving 1/2 cup of the juice.
Chop the strawberries and set the juice& berries aside.
In a mixing bowl, cream shortening and sugar, then add eggs one at a time, beating well after each.
Combine dry ingredients and add to the creamed mixture alternately with the buttermilk.
Stir in the pecans, chopped strawberries and extracts.
Pour into greased and floured 10" tube or bundt pan.
Bake at 325° for 1 1/4 hours or until a toothpick inserted in center comes out clean.
Cool in pan for 10 minutes, then remove from pan and place on wire rack.
For glaze, in a small saucepan, combine the sugar and the 1/2 cup of the reserved strawberry juice.
Add sliced strawberries and bring to a boil.
Cook and stir for 1 minute.
Remove from heat and stir in extracts.
Brush some of sauce over the warm cake and serve with the remaining sauce.