Pamela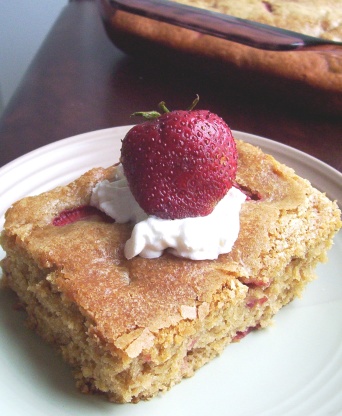 This is based on a recipe from an inn on the coast of Maine. They serve it warm with butter or whipped cream, but it can also be served cold.

A nice combination of summer and winter!
Chop strawberries, sprinkle with sugar, mix well, cover and refrigerate for an hour.
Grease and flour a 12x8x2 baking dish.
Preheat oven to 350 degrees.
With electric beater, beat together oil, 1 cup sugar, salt and molasses.
Beat in egg.
In separate bowl combine flour, spices and baking soda.
Drain strawberries if any liquid, dredge berries with 2 tablespoons of flour mixture.
Add remaining flour mixture to first mixture alternately with buttermilk, beating after each addition.
Stir in strawberries.
Pour into baking dish.
Sprinkle top with 2 tablespoons sugar.
Bake for 35-40 minutes, until toothpick comes out clean.
Cut into squares and serve warm with butter or whipped cream -- or serve later cold.