DuChick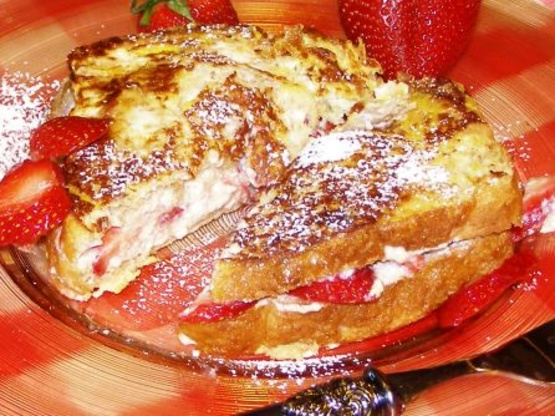 Something I make for special occasions. A real breakfast treat.

"Mmmmm...decadent..." was all I could get out of my husband between bites. I cut the ingredients in half for the 2 of us and had enough cream cheese mixture to spread all 4 pieces of bread, but had to flip the sandwich *very* carefully in the pan. To skinny this up, I used ff cream cheese and low-cal bread, but it was still very rich and delicious! We topped with a light squirt of maple syrup and powdered sugar. Thanks for posting this one, 'swimmin!
Add the first 4 ingredients to a bowl; stir until mixture is smooth.
Spread one side of each slice of bread with the cream cheese mixture.
On 4 slices of bread (over the cream cheese), place sliced strawberries evenly.
Top with remaining bread slices, cream cheese side facing down (should make a sandwich); press gently.
In a shallow bowl, add the eggs and milk; stir to mix.
In a large nonstick skillet, over medium-high heat, melt 1 tablespoon butter.
Dip sandwiches into the egg mixture, making sure to coat each side.
Place soaked sandwich in skillet and cook until browned on each side; repeat process with each sandwich, adding 1 tablespoon of butter to the skillet before each sandwich is cooked.
Right before serving, slice each sandwich diagonally, sprinkle with sifted powder sugar.
Note: keep sandwiches warm on a greased baking sheet in a 200 degree oven while finishing cooking the other sandwiches.