Kim D.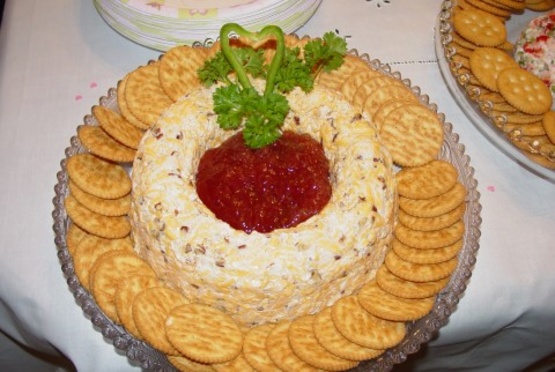 We always had this at my grandparents on Christmas Eve. A coworker of mine, brought this into work a couple of years ago, and I got this recipe from her. It tastes just like I remember. It's just one of those recipes for me, that brings back memories of childhood. Plus I think it tastes pretty darn good. Cook time includes refrigeration time.

I made this cheese ring for a ladies brunch. It looked lovely and very festive. I served it on a crystal round platter and wish I could post a picture. The only change I made was to use chopped green onion instead of regular onion. I shaped the ring in a ring mold and used the strawberry preserves like a glaze and drizzled on top. bratty_1, thanks for posting this recipe.
Combine all the ingrdients except preserves in a food processor or electic mixer.
Mix thoroughly and refrigerate for 2-3 hours.
Scoop mixture onto a platter.
Use your hands to mold mixture into a ring formation.
Spread strawberry preserves in the center of ring.
Serve with buttery crackers.