Donna65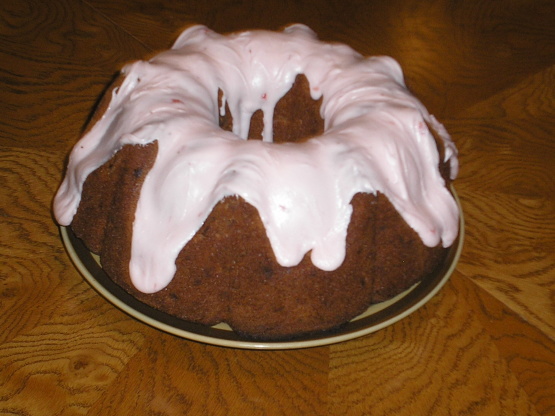 This was one of my mother's favorite recipes. She always had one in the freezer just in case company came. I added the strawberry glaze and it makes a lovely dessert.

I made this recipe the other day & gave half of the cake to my son & DIL, then wanted even more for myself so baked yet another one! REALLY AN OUTSTANDING CAKE & I look forward to making more to freeze! I did toast the pecans a bit before using them! This is definitely a keeper of a recipe, but you might want to redo the ingredient list to include the glaze ingredients so that the box of 'Nutrition Facts' is more accurate! [Tagged, made & reviewed for one of my adoptees in the current Pick A Chef]
Preheat oven to 350 degrees.
Mix dry ingredients and seasonings.
Add eggs, strawberries, and oil.
Beat well with mixer.
Pour into greased bundt pan.
Bake 1 hour at 350 degrees.
Cool slightly before removing from pan.
.Glaze.
1/4 cup strawberry juice.
1 to 2 tablespoons melted butter.
2 cups powdered sugar.
Beat all with mixer until smooth.
Drizzle over warm cake.