Strawberries Stuffed With Cranberry Mascarpone
Thorsten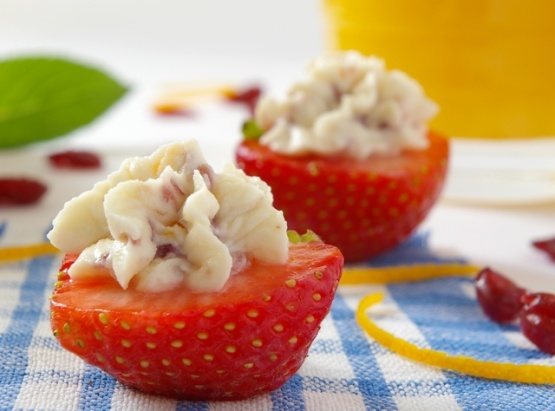 I've been hanging on an old magazine recipe clipping for years. Finally, I made this recipe and, WOW, it's great. I used jumbo strawberries, but you can also use regular-size strawberries. Serve an appetizer or a dessert! The filling is not overly sweet, and you can add powdered sugar to taste if you want a sweeter cheese mixture. I've found that there's more than enough filling for 12 medium-large strawberries. If you don't have time to pipe the filling, you can serve it in a bowl as a dip.
Combine mascarpone cheese, dried cranberries, orange zest, and liqueur in a bowl.
Pipe the cheese mixture onto the strawberry halves using a pastry bag fitted with an open star tip. The tip should be large enough so the cranberry bits do no clog the tip.
Chill then serve.