Strawberries and Cream Truffles
Jubes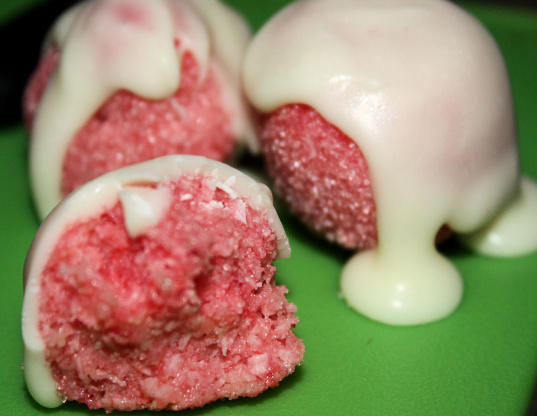 stumbled across this while experimenting with Xmas sweets and truffles, and it has become a favourite. I leave the "cream" off a few, because there are always those strange people that dont like chocolate. Prep time includes chilling. If you wet your hands, you will find these easier to roll.

Sorry Mummamills, this just wasn't too our taste, it's very easy to make and looks very pretty with the white chocolate on top, I expected something creamier but the strawberry jelly didn't do it for me.
Knead together ONE packet jelly, coconut and condensed milk using the back of a fork until thoroughly mixed.
Chill 30 minutes.
Roll 1 teaspoon mixture into a ball.
Throw into a pie plate with the other packet of Jelly.
Roll to coat thoroughly, put on a plate and chill another 30 minutes.
Melt 1/2 cup of white chocolate buttons, and spoon a teaspoon full over each truffle, chill again.