Stir Fry Chicken and Peppers
bailey46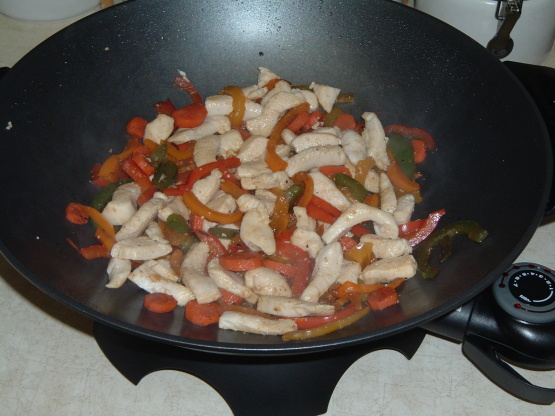 I received an electric wok for xmas and this is the 1st thing I made in it and it turned out very good. It's a very simple throw together recipe that can be adjusted quite easily for your own tastes.

Fabulous!! The best meal I've made in awhile. A kid pleaser too. DH said, "Mmmmm," with every single bite. Everyone cleaned their plates and asked for 2nd helpings. Thank you! This is a keeper and easy to make in large volume. I added cauliflower for bulk.
Preheat wok to med. high and add chicken.
Cook until no pink shows.
Remove and set aside.
Add peppers and carrot.
Cook until tender crisp.
Add chicken back in with the garlic.
Cook about 30 sec.
Add chicken broth, honey and soya sauce.
Bring to a boil, cooking just until some of sauce is reduced.
Serve over rice.