Sticky Garlic Chicken Skewers
stevejb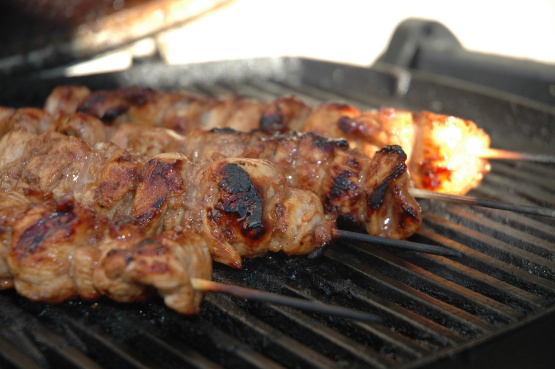 This recipe is low fat and you can cook them on your outside grill or in your oven broiler.

I will not put stars on this recipe because I didn't follow the exact directions but the concept was wonderful. The chicken was a huge hit! So good I forgot to save some for my 3rd son who was at ball practice. :) A for sure remake!
Soak 12 bamboo skewers, each 10 inches long, in water for at least 20 minutes.
Meanwhile, mix together the garlic, honey, ketchup, Worcestershire sauce, mustard and hot pepper sauce, and season to taste with salt and freshly ground black pepper.
Toss in the chicken and stir until well combined, transfer to a nonmetallic dish, cover and marinate for 20 or 30 minutes or overnight.
Prepare the outdoor grill or preheat the broiler to high.
Thread the marinated chicken onto the skewers.
Cook over the hot coals of an outdoor grill for 5 to 6 minutes or arrange on a foil-lined baking sheet and broil for 6 to 7 minutes, turning occasionally until well browned and cooked through.