bill9026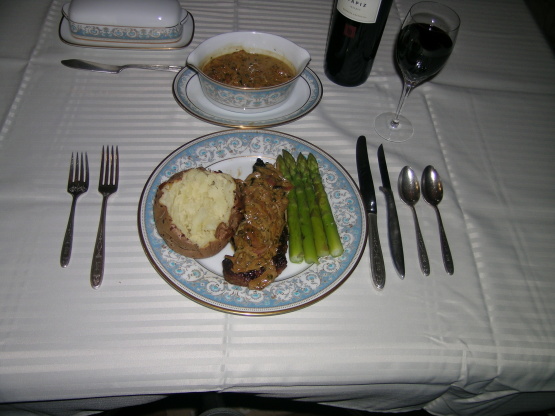 Every time I've ever made this I've been told that it was the best steak anyone has ever had! I found the recipe years ago on The Food Network's website, but sadly, it's no longer there. I hope you enjoy it as much as I have :)

Actually, I was going to submit this, or a recipe so similar, it had to have had the same root. Instead, I submitted a photo of a single serving with asparagus and baked potato. Hopefully, they will print it. Like the author, I have no idea where I found it. My first ex-wife and I would serve this with a double recipe and a large Chateaubriand. She was pretty meager with her praises, but she rated it excellent plus. The only caution I have to add is if you are cooking this on a kitchen range, shut off the exhaust fan before you add the lighted sherry to the fat in the skillet. The flames are phenomenal. About the sherry, if you wouldn't drink it, why would you cook with it?
For the steaks

2

beef tenderloin fillets (8 oz. each, 1 inch thick)

2

tablespoons green peppercorns (packed in brine)
freshly ground black peppercorns, to taste

For the sauce

1

cup shallot, minced

2

tablespoons butter

1

tablespoon olive oil
salt and pepper, to taste
1⁄2 cup beef stock

2

cups whipping cream
For the steak.
Place the green peppercorns in a mortar and pestle and lightly crush them.
Place steaks on a plate and pat dry with paper towels. Press the crushed green peppercorns into the meat with your fingers. Generously grind black pepper over steaks. Cover with cling wrap and let stand in the refrigerator for half an hour or longer so that the pepper flavour will penetrate into the meat.
Heat a sauté pan on high flame, then place steaks into hot pan. Lower heat to medium-high.
Sear the steaks on one side for 3-4 minutes, constantly checking the heat, then turn the steaks over and sear for another 3-4 minutes for medium-rare. Or cook to desired doneness.
Remove steaks from sauté pan onto a warm platter and cover with foil to keep warm while making the sauce.
For the sauce.
Add butter and olive oil to the sauté pan and once the foam has subsided, add shallots and cook on medium high heat for one minute.
Pour in beef stock and boil down rapidly over high heat until it is reduced by half.
Pull pan off the heat. Pour brandy or cognac into the pan, ignite it with a lit match tilting the pan away from you and averting your face. Expect a flame burst once you light it. Shake the sauté pan for a few seconds until the alcohol cooks off and the flames have subsided. Or simply simmer to burn off the alcohol if you don't want to flambé.
Once alcohol cooks off, add the cream and bring to a full. rolling boil. The cream will puff up as it boils and then it will reduce down and thicken. Lower heat to a simmer as the sauce reduces by half. This should take at least 10 minutes.
Pour the sauce over the steaks and serve.