St. Anselm's Garlic Steak
Cook4_6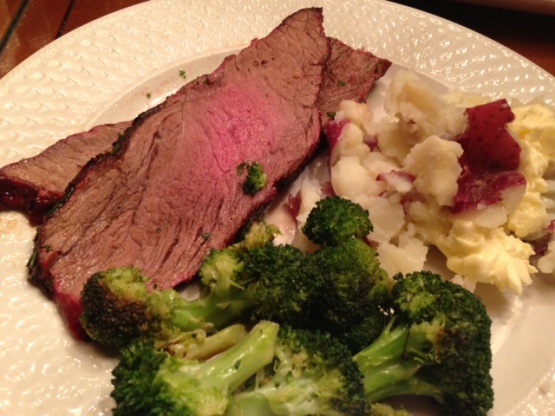 Very simple sounding, but delicious. Also serve the clarified butter sauce on scallops, shrimp, or artichokes. I love it on scallops! Very versatile! You can also sub shallots or rosemary for the garlic. From Bon Appetit. Prep time does not include the time to get your grill ready.

The steaks were wonderful and the "butter" made the flavor more alive. This recipe was made for ZWT 8-Gluten Free Challenge and the only issue with this recipe to make it gluten-free is which butter to use. I have dairy issues so use Earth Balance Brand which is vegan and also gluten-free so I didn't have to change anything but others might have to.
Build a medium hot fire in a charcoal grill.
Season steak generously with kosher salt and black pepper.
Melt butter in a small skillet over medium heat until foamy. Remove skillet from heat. To clarify the butter, use a spoon to skim the foam floating on the surface of the butter; discard the foam. Add the garlic to the clarified butter and let it infuse while the steak is cooking and resting.
Grill the steak, turning once, until cooked to desired doneness, about 5 minutes per side for medium rare. Transfer steak to a cutting board and let it rest for 10 minutes.
Thinly slice the steak against the grain. Divide the steak between plates and spoon the garlic butter over the top of the steaks. Season with sea salt and garnish with parsley if desired.