Bayhill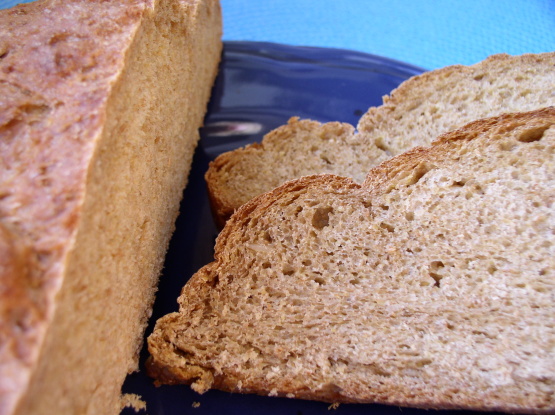 Delicious homemade squaw bread. Recipe makes 4 loaves. Squaw bread, anyone?

While this is a good bread, it really is just a standard tasting multi-grain bread. Squaw bread, as I know it growing up in California, is a much darker, sweeter, richer-tasting bread. This doesn't taste like squaw bread that I've ever known.
Dissolve yeast in warm water. Pour boiling water over cornmeal and oatmeal; let stand until cool.
Add honey, butter and salt to yeast mixture. Stir in bran, then whole wheat flour.
Add cooled cereal mixture, then add unbleached flour a cup at a time until mixture is stiff enough to knead.
Knead 10 to 20 minutes. Let rise 2 hours, then punch out air and shape into four loaves; place loaves onto two lightly greased and floured cookie sheets.
Let rise 1 hour, then bake at 350 degrees for 45 minutes. When done, loaves should sound hollow when tapped. Be careful not to underbake the moist, heavy loaf.
NOTE: Time does not include 3 hour rise time.
Makes 4 loaves.