Spinach Pear Salad from Restaurateur, Tom Douglas
Geema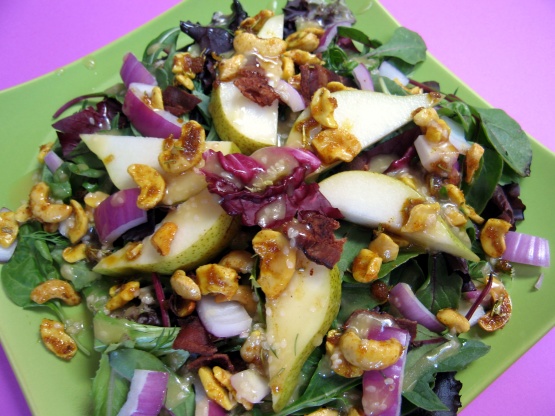 This salad is perfect. AND the curried cashews make outstanding appetizers, garnishes, snacks or gifts; the honey-sesame dressing can be used on any number of salads. The contrast of colors, flavors and textures is inspired. Tom Douglas is chef and owner of 4 Seattle eateries and this salad has been on his menu.

Loved it! My husband doesn't usually like Spinach salad, but he had two servings of this one. I actually omitted the bacon and added a few cubes of cambozola cheese. It was a nice addition with the pear. The dressing is to die for and I will be using it for other salads more often!
Curried Cashews

3⁄4 cup cashews (about 3 ounces)

1

tablespoon unsalted butter, melted

1

teaspoon chopped fresh rosemary or 1 teaspoon crushed dried rosemary

1

teaspoon curry powder

1

teaspoon dark brown sugar
1⁄2 teaspoon coarse salt
1⁄2 teaspoon cayenne pepper

Honey-Sesame Vinaigrette

3

tablespoons white wine vinegar

3

tablespoons Dijon mustard

2

tablespoons honey

3

tablespoons sesame seeds, toasted

1

teaspoon minced garlic
freshly ground pepper
1⁄2 cup vegetable oil or 1⁄2 cup peanut oil

Salad

1⁄2 lb smoky thick slab bacon (about twelve 1/4" thick slices)

12

cups loosely packed spinach leaves, no stems,torn to bite-size

6

cups loosely packed frisee, torn to bite-size
2⁄3 cup red onion, thinly sliced

3

small pears, halved,cored,thinly sliced

6

bunches grapes, small for garnish
Curried Cashews: Preheat oven to 400°; toast cashews on baking sheet for 8-10 minutes or until golden; combine remaining ingredients; add hot cashews, toss until coated; set aside to cool.
Honey-Sesame Vinaigrette: Combine all ingredients and whisk until emulsified.
Salad: Cut bacon into 1/2" pieces and cook until crisp.
Put greens, onions and sliced pears in a bowl and toss with enough vinaigrette to coat everything well.
Place salad on six plates; sprinkle each with bacon and curried cashews; garnish with cluster of grapes placed at the side of each plate.