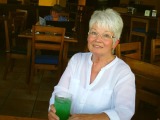 Serve with grill salmon and pineapple salsa
236.59 ml jasmine rice
473.18 ml vegetable stock or 473.18 ml chicken stock
9.85 ml olive oil
1 lemon, juice of
141.74 g Baby Spinach, shredded
Directions
Rinse and drain rice in cold water.
Place the rice, stock, olive oil and lemon zest in a heavy saucepan.
Bring to boil over high heat, stir, reduce to a simmer, cover tightly and cook for 10 minutes.
Uncover place shredded spinach on top of rice without stirring.
Cover again and cook for another 5 minutes.
Turn off heat, add lemon juice and let stand covered 10 minutes.
Fluff with a fork and serve.
Most Helpful
Five stars! I made it in the rice cooker, skipped the oil and added some chopped green onion and a little salt. Delicious!
Really, really, REALLY good!! ANd so easy to prepare! Had it with maple glazed salmon, yums!
This was delicious! I had it with the Salmon recipe #53198 and it was such an elegant dinner (but very easy) I got a bag of the baby spinach in the salad section at my store and didn't have jasmine rice so I used my brown rice. My family loves rice so this will be cooked often! THANKS for a great recipe!