Spinach Lasagna Roll-Ups (Meatless)
karen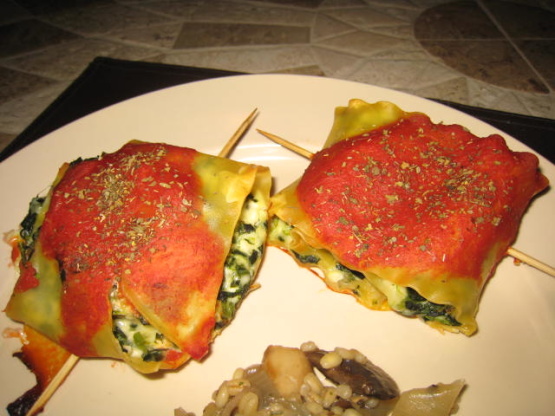 I found this recipe in the January/February 2007 edition of Simple & Delicious magazine. These Italian-inspired roll-ups are fast and fun to fix. With their elegant look, they're perfect for both family meals and special occasion dinners alike. Time does not include chill time.

Top Review by Hadice
Really liked this, 1yo DS did not...I made it for him because he loves veggie lasagna. Oh well! Seems this dish is just lacking a little substance, I think it's because I prefer ricotta over cottage cheese. Other than that, this is a great standard to keep in your cookbook!
In a bowl, combine the spinach, mozzarella, cottage cheese, 1/2 cup Parmesan and egg.
Spread a heaping 1/3 cupful over each noodle.
Roll up and secure with toothpicks.
Place seam side down in an 11 x 7 x 2 inch baking dish coated with non-stick cooking spray.
Cover and refrigerate overnight.
Remove from the refrigerator 30 minutes before baking.
Pour tomato or spaghetti sauce over roll-ups.
Cover and bake at 350 degrees Fahrenheit for 33-38 minutes or until bubbly.
Sprinkle with remaining Parmesan cheese.
Discard toothpicks.