vrvrvr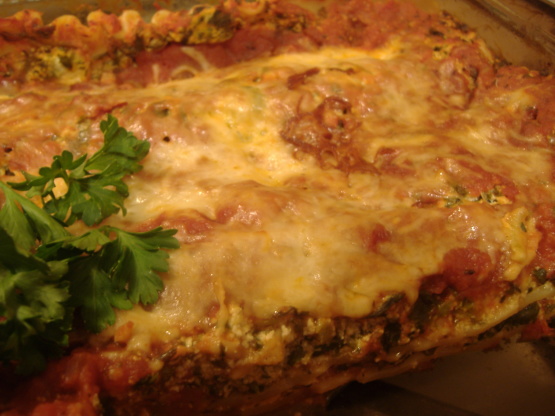 No boiling the noodles. This is non-fussy lasagna that goes together quickly with satisfying results. It's yummy.

This was really easy to put together and was very good. My family enjoyed it and the meat lovers didn't miss the meat at all. I used Barilla No Boil lasagna noodles and they worked perfectly. I will make this again.
In medium bowl, combine ricotta, 1 cup mozzarella cheese, egg, spinach, salt, pepper and oregano. Stir well.
Spread 1/3 spaghetti sauce in a greased 9x13" baking dish. (NOTE: You can stretch your sauce by thinning with a little water so that you have enough for topping.).
Place 1/2 of (uncooked) lasagna noodles over sauce.
Spread with 1/2 ricotta cheese mixture.
Then again: sauce, noodles, cheese mixture.
Sprinkle remaining 1 cup mozzarella over.
Save a bit of sauce to dribble over top.
Pour water around edges.
Cover securely with foil.
Bake at 350 for 1 hour and 15 minutes.
Let stand 10 minutes and serve.