Spinach, Ham and Potato Au Gratin
vrvrvr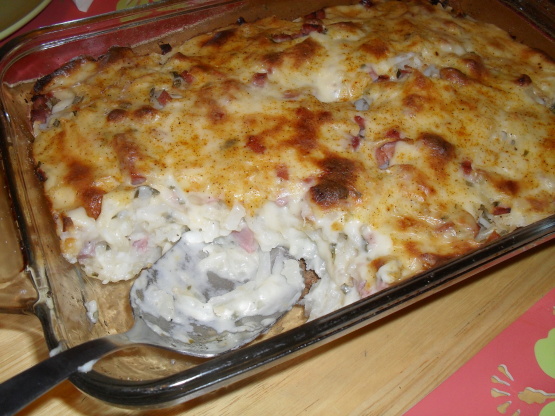 A delicious casserole that has a surprise spinach layer in addition to the traditional ham and potatoes. All baked in a delicious cheesy sauce.

Top Review by vrvrvr
Mmmm, this was creamy goodness! Right off the bat, I've got to say that I had no spinach in the house. We thought it was just fine without the spinach. I added a couple little things here and there: finely chopped shallots in the butter (before adding the flour to make the roux), and for the milk I used a combo of cream, chicken broth and milk. I added chives and Tabasco, and salt and pepper to the casserole. I was happy to find this great entree because I had no eggs or sour cream, and many other ham casseroles called for those. This one is a winner!
Preheat oven to 350 degrees.
For the cheese sauce; in a saucepan melt butter or margarine; stir in flour.
Add milk all at once.
Cook and stir until bubbly; cook 1 minute more.
Remove from heat.
Stir in cheddar cheese and mustard; set aside.
Place half of the ham strips in an ungreased 2-quart casserole dish.
Top with half of the hash browns and half of the cheese sauce.
Spoon the spinach on top of the cheese sauce.
Repeat layers of the remaining ham, potatoes and sauce.
Bake uncovered 30-40 minutes or until heated through.