ImPat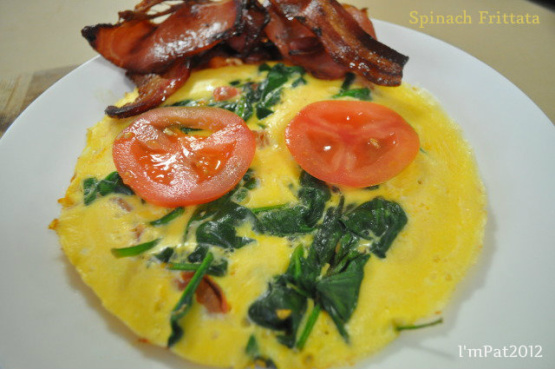 I made this to use up a bag of Spinach + Eggs that were going out.

Top Review by ImPat
I scaled this back for 1 serve and used a whole tomato as it was rather small and it only took 5 minutes to cook in the oven at 200C fan forced. The only change I would make would be to deseed the tomato as I wasn't keen on the soft taste but just loved all the flavours that came together and I did use 2 whole eggs. Thank you for a very filling breakfast misskorny, made for My 3 Chefs game.
Pre-heat oven to 400 F.
Chop Garlic and 1 Tomato.
Spray skillet with Pam
Cook Garlic and Tomato.
Add Spinach, cook until wilted.
In another Bowl, combine Eggs + Whites + Milk + Seasonings.
Add to Spinach Tomato Mixture.
Stir so everything looks distributed.
Slice Second Tomato into 4 circles and place on top.
Bake at 400 F for 15 minutes, then Broil for about 3-5.
Let cool and enjoy!