teresas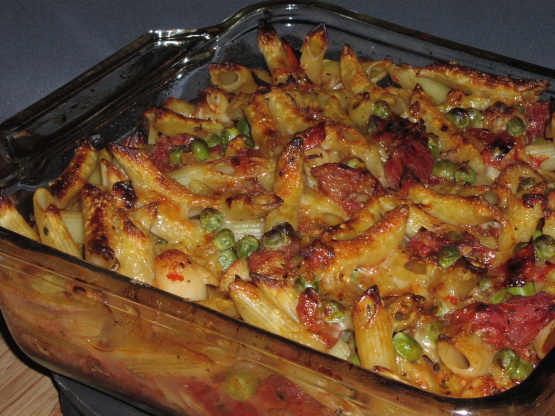 This great recipe came from a December 1995 issue of Woman's Day magazine. It's so hearty and flavorful - great with garlic bread and a nice green salad.

We loved this dish. I took Rita's suggestion and added the seafood to the sauce and omitted the butter, (saved on fat). This worked great. I cut the recipe in half and baked it in an 8X8 inch pan. It made 4 large servings (cutting calories). I did crisp it up under the broiler for about 5 minutes. Great recipe and thanks for posting. :)
Chop the onion. Mince the garlic. Peel and devein the shrimp, and cut in half lengthwise.
Heat the oil in a large saucepan. Add onion and garlic and cook about 2 minutes, until onion is translucent.
Stir in both cans of tomatoes (with juice), salt, crushed red pepper, and black pepper. Crush tomatoes with a fork and bring to a boil. Reduce heat and simmer, uncovered, 30 minutes.
While sauce is cooking, bring a large pot of water to boil and cook penne for about 9 minutes, until slightly underdone. Drain and set aside.
In a large, deep skillet, melt the butter. Add shrimp and cook over medium heat 2-3 minutes, just until pink. Add scallops and stir 10 seconds, just until outsides are white. Remove skillet from heat.
Add pasta, sauce, peas, 1/2 cup Parmesan cheese, and basil. Stir to mix well.
Grease a 13x9 baking dish. Spoon pasta mixture into dish and sprinkle with remaining cheese.
Cover with foil and bake at 350 degrees for 35 minutes. Uncover and bake 10 minutes longer, until heated through and top is lightly browned.