Spicy Root Vegetable & Lentil Casserole
Prose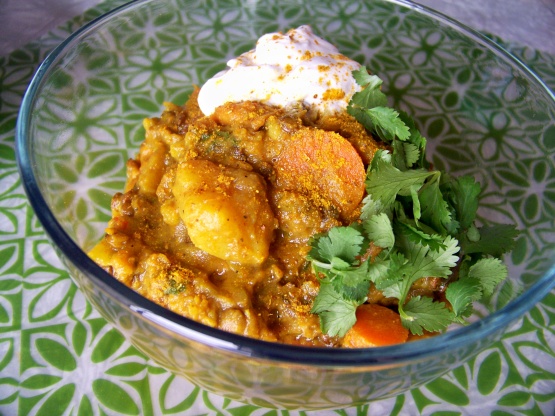 I am collecting recipes for my New Year venture back into a largely vegetarian diet. This looks like something my husband and myself will enjoy so I am sticking it here for safe keeping. I found it in the 2008 copy of the yearly 'Vegetarian Christmas' special put out by BBC Good Food Magazine. You can pick the heat of curry paste or powder that will suit your family.

This is a very flavorful dish and great for the fall and winter. I cooked it exactly as the recipe describes including ingredients. Cilantro does make a big difference. The only thing I will add next time is more curry seasoning. If you do not like spicy dishes, use the recommended amount. My husband and I need a little more spice so next time, I will be generous with the curry. Rice was also a good compliment to the dish.
Heat the oil in a large pan, then cook the onion and garlic over a medium heat for 3 to 4 minutes until softened.
Tip in the potatoes, carrots and parsnips.
Turn up the heat, then cook for 6 to 7 minutes, until vegetables are nicely golden.
Stir in the curry paste or powder and stock, then bring to a boil.
Reduce the heat and add the lentils.
Cover with a lid and simmer for 15 to 20 minutes until thickened.
Season the casserole , then stir in most of the cilantro.
Heat through for another minute.
Serve with a spoonful of yogurt, if you wish, and sprinkle over the rest of the coriander.