gailanng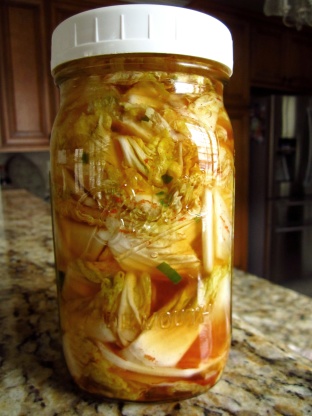 This recipe is a bit different than any already posted here on Recipezaar and it is exceptionally good. After mellowing for two days in the fridge it is still crunchy and as the title says - very spicy - like hot. The recipe was in a pamphlet that was left at my house. Serve this as a side dish-a garnish that will enhance the flavor of your meal

Top Review by Morti
After getting tired of hearing my man saying he wanted Kimchi and not being able to find it, I selected Bergy's recipe because he like spicy. This fit the bill perfectly! He without doubt a 5 and could I make the largest container I had next time? Only problem was his constant "Is my Kimchi ready yet?" Bergy, thank you for making him a happy man, someone has to do it, but I think you've created a monster! I'm going to have to keep it in the house all the time. Thank goodness it very easy.
Separate and wash the cabbage leaves.
Sprinkle them with the 2 tbsp of salt.
Place them in a non corrosive dish (Pyrex) and pour in the 4 cups cold water, cover with plastic wrap and place in fridge over night.
The water should cover the leaves if not place a heavy object on them to keep them submerged.
After sitting overnight pour off the water and rinse the leaves well, shake out excess moisture. ( I used my lettuce dryer to remove the extra moisture).
Mix the garlic, ginger, green onion,chili flakes,sugar & 1 tbsp salt, stir together.
Pour 11/2 cups of very hot water over the mixed seasoning.
Place cabbage leaves in a large zip lock bag or in a bowl, pour in the seasoning, mix well so the seasoning is on every leaf.
Place in the fridge for two days. Flip the bag every time you open the fridge door.
To serve cut the leaves into 2" strips and serve as a side condiment.
To store pack the cabbage into a jar and store in the fridge it will keep for several days to a week or more.