SaraFish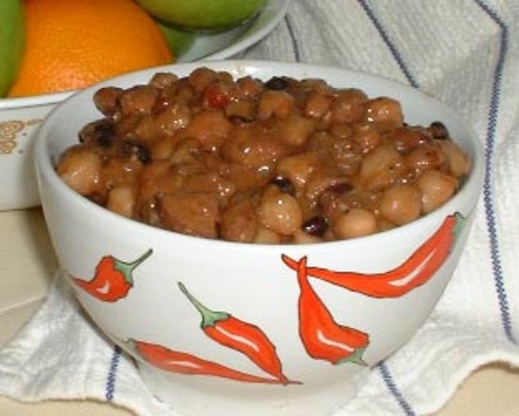 This recipe is so delicious! Plus, it's quite adaptable, too. I used a ham bone instead of ham hocks and I only had a 14 ounce can of tomatoes. The soup had plenty of hammy and tomato flavor. I also omitted the cayenne and I added just a pinch of red pepper flakes and it was still a bit spicy (I imagine with a whole tablespoon of flakes plus the cayenne, this soup would be quite blistering!). It should be noted step 11 (continue simmer until beans are soft) took over another hour - like an additional hour and 20 minutes. Even with the overnight soak and almost 3 hours of cooking, this soup is so worth it!
3

cups beans (great northern, pinto, black, navy, lentils - any or all)

8

ounces chopped kielbasa (, or other sausage, if you love meat)

10

cups water (vegetable, chicken, or beef) or 10 cups stock (vegetable, chicken, or beef)

2

medium chopped onions

2

tablespoons minced garlic

1

(28 ounce) can Italian tomatoes

1

tablespoon crushed red pepper flakes
1⁄2 teaspoon cayenne pepper (optional)

1 -2

tablespoon freshly ground black pepper

2

tablespoons sage or 2 tablespoons basil or 2 tablespoons parsley or 2 tablespoons oregano (or any combination of those herbs)
freshly squeezed, lemon, juice of
If you've got time, cover beans with water and soak, covered, overnight.
Otherwise, cover beans with water and bring to a boil for a few minutes, then bring the heat down to low and simmer for 30 minutes or so.
Drain (this helps cut down on any, uh, gas issues).
Cover again with water, stock, or a combination.
Add ham hocks and bring heat back to medium.
Simmer for an hour or until beans are softened and meat is coming off the bones.
Add water or stock as needed throughout cooking process.
Remove ham hocks and set aside to cool.
Add onions, tomatoes (with juice), garlic, spice, salt and sausage (if desired).
Remove meat from ham hocks, shred into small pieces, and add to soup.
Continue to simmer until beans are very soft.
and tomatoes have broken down.
Add lemon juice.
Add salt and pepper to taste.
Serve with crusty, rustic bread and a green salad.