PaulaG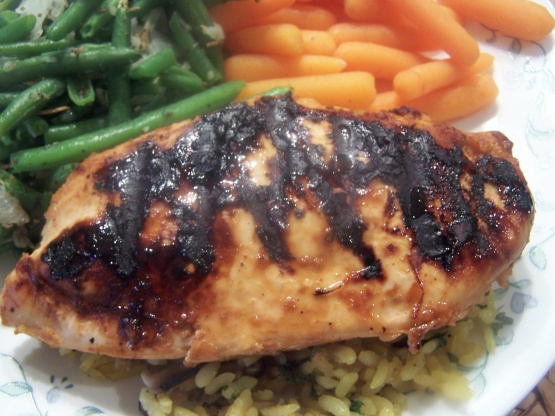 Delicious marinated chicken is great cooked in the oven or on the grill. Recipe source: Bon Appetit (July 1981)

Tasty "barbecue" flavor!! I cut marinade recipe in half and used for 2 skinless breast fillets (could easily have done 4) and marinated for 4 hours. Cooked on stovetop grill pan. I even cheated a bit,(short on time and too lazy to get out the food processor: I finely minced the garlic and ginger with a mezzaluna, and completely left out the green onions-I'll try them next time). DH and I both loved it- thanks for posting!
Using a food processor and the steel knife, mince garlic and ginger together. Add green onion and lemon peel to processor and process using on/off turns until minced. Add remaining ingredients (except for chicken) to processor and process until blended (5 seconds).
Pour mixture into two baggies or plastic containers large enough to hold chicken. Add chicken to baggies or containers, turning once to coat all sides of chicken. Refrigerate for several hours (at least 4), turning occasionally. Bring to room temperature before cooking. Drain chicken and reserving marinade.
***To cook in oven, preheat oven to 450°F Line pan with foil and arrange chicken on pan in a single layer, skin side down. Brush with marinade. Bake 20 minutes. Turn chicken, brush with marinade, cook an additional 20-30 minutes or until chicken is done and brown. Baste with remaining marinade.
****To cook on grill, prepare grill. Brush chicken with marinade and arrange on grill in a single layer, grilling for 20-30 minutes before turning, turn and brush again with marinade. Grill for 20-30 minutes until chicken is done and brown. Baste with any remaining marinade.