Prep 10 mins
Cook 15 mins
A quick and delicious soup that you can have on the table in under a half hour. To make this into Chicken Tortilla Soup, leave out the rice and add 1/2 - 3/4 cup finely crushed corn tortilla chips.
Directions
In a large pot, combine first 9 ingredients. Bring to boil. Reduce heat; cover and simmer for 15 minutes or until heated through.
Garnish with toppings.
Reviews
Most Helpful
Delicious soup! It's magic - you just quickly put it together and it's done! Made rice in my rice cooker which is quick and the only changes I made was to substitute rotel chilies and tomatoes for the salsa and I added some garlic powder and ground cumin -- just minor stuff. I'll be eating this all weekend and since DH is gone, there is more for me! Made for ZWT-8-Mexico/US SW.

I honestly don't think you could ask for an easier recipe! It goes together fast and it cooks fast. I used hot salsa, which I think added a nice kick to the soup. Very flavorful and it makes a lot! Made for ZWT 8.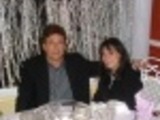 Our whole family loves this soup. So do our children's friends! Most of us like it better with some hot sauce, but it is a great recipe. I followed the recipe exactly. Thank you for sharing this!