Spicy Cheeseburger Nachos
megs_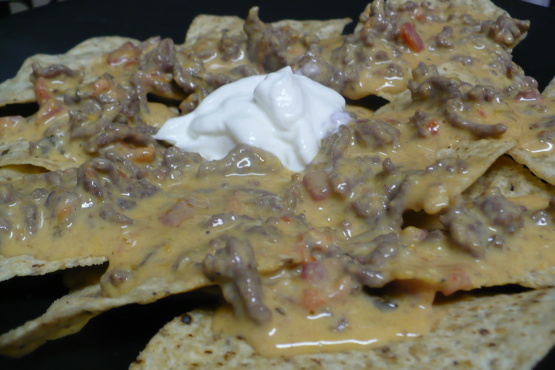 Made this for a Sunday afternoon of football watchin'. We loved it and is very easy to make.

Top Review by megs_
These were really yummy! I cut the recipe in half but still used 1 lb of extra lean ground beef for a nice hamburger-y flavor. :) I used low fat (2% milk) velveeta, and omitted the green onion. I added in some worsc. sauce with the meat and then at the very end, added in about 1/2 cup of shredded lowfat cheddar cheese. I cooked in my crockpot on HIGH for 1 hour, stirring once halfway through. I served hubby's plain and mine with sour cream, and we both loved it! Thanks for sharing!
In a big non-stick skillet, cook the ground beef and garlic until the beef is no longer pink, stir frequently; drain.
In a 4-quart slow cooker, add the ground beef mixture, cheese, and tomatoes; stir to mix.
Cover and cook on LOW for 3-4 hours or until the cheese is melted and mixture is well heated; stir after 2 hours.
Add in the onions, stir to combine.
Serve with tortilla chips.