Spiced Streusel Sour Cream Apple Pie
MsSally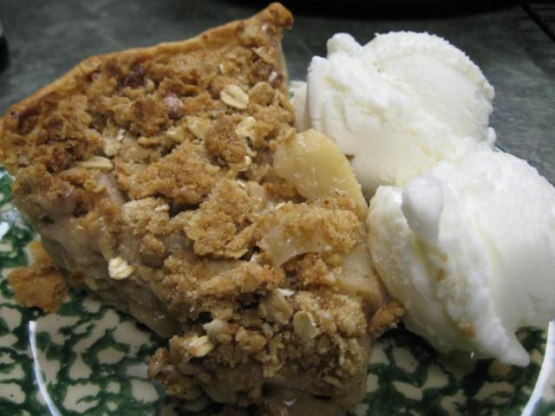 Wonderful spice flavor that's always nice in a holiday pie! Even though it is relatively simple to make, the streusel topping can be made a day ahead for even easier preparation. Served with vanilla ice cream, it rounds out the perfect meal and definitely delivers the 'Wow!" factor.

A very good recipe. I have an apple peeler/corer/slicer, so I used that instead of cutting all of the apples. The slices were very thin, so did not need to cook for very long to achieve tenderness. I was not paying attention though and used a cube of butter intead of the 5 TBSP so the topping was like a paste, but it still tasted wonderful! I will be trying it the right way next time! :)
For streusel topping: Combine nuts, brown sugar, cornmeal, flour, cinnamon, and nutmeg in food processor and pulse on/off until nuts are finely chopped. Add butter and process until small moist clumps form. (Can be prepared 1 day ahead. Cover and refrigerate.).
For filling: Position rack in center of oven and preheat to 375 degrees. Toss apples with sour cream in large bowl to coat. Mix sugar, flour, cinnamon, nutmeg, and cloves in a small bowl. Sprinkle mixture over apples and toss to coat.
Transfer filling to prepared crust. Sprinkle streusel topping over apples, covering completely. Bake pie until apples are tender and streusel is golden, tenting pie if streusel browns too quickly, about 1 hour. Transfer pie to rack and cool slightly.
Serve pie slightly warm or at room temperature (and definitely with some vanilla ice cream!).