MsSally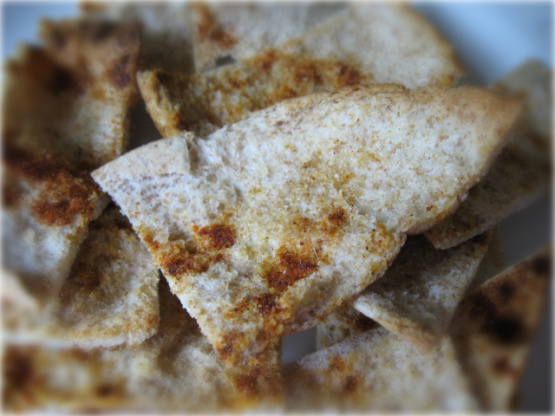 These are satisfyingly thin and crunchy! I eat them with white bean dips and classic hummus, but they will go well with whatever your favorite dip is! Very addictive!

So easy and tasty... I may never buy store bought again. I did mine slightly different. I sprayed the pitas with olive oil spray and then sprinkled the spices on top. I added a little garlic powder to the mix. Be very careful to watch the time. The first batch was perfect at 8 mins. The second batch was a little brown, but still edible.
Preheat oven to 400-degrees F.
Stir together cumin, salt, paprika, and olive oil.
Split each pita into 2 rounds and brush the rough sides (the inside sides) with the oil mixture.
Cut the rounds into 8 pieces each, and place rough side up onto baking sheets.
Bake in 400-degree F oven until golden brown and crispy, about 8 minutes.
Cool and store in airtight containers at room temperature. Keeps about 5 days.