Feej3940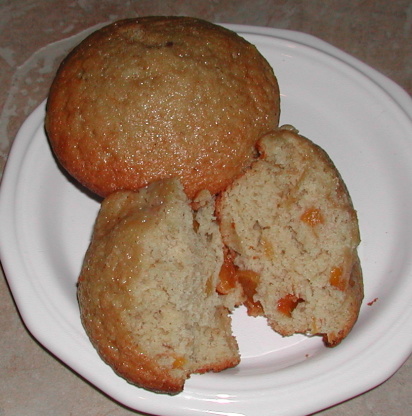 If you don't like spices, then leave them out but they really are a nice enhancement to the peaches.

Top Review by Roosie
Yummy- I think, in fact, they could have used a little more spice. Maybe some vanilla? Beautiful cakey muffins, but man, that batter was hard to stir! Usually muffin batter is much more like cake batter than cookie dough. Had I known I might have made these in my KitchenAide rather than by hand, because my arms were darn tired after mixing all the flour in- and THEN I had to mix in the peaches. I didn't use quite-ripe peches, and I'm sure they would have been much better had I used fully ripe peaches and yellow peaches rather than white (there were no yellow at the grocery). Overall good, but needs a few touches and a warning about the thickness of the batter. Pretty muffins, though.
Combine flour, salt, baking powder,brown sugar, allspice, nutmeg, and cinnamon in a large bowl.
Stir in eggs, vegetable oil and milk, then gentley stir in fruit.
Grease 16 muffin cups, and heap batter into cups; they'll be very full.
Sprinkle with granulated sugar.
Bake at 400 degrees for 25-30 minutes, or until toothpick inserted in centre comes out clean.