Spiced Maple Glazed Salmon
Ms B.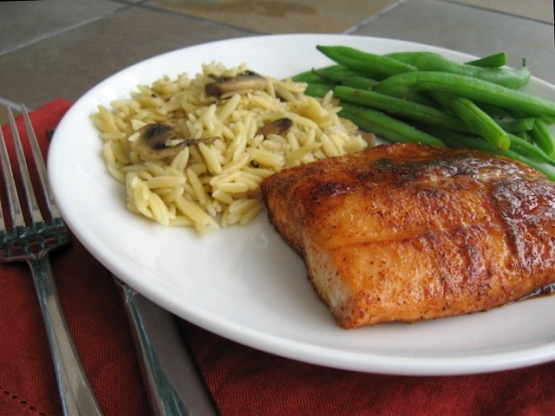 Sweet and spicy, the flavors in this salmon are wonderful year round! It can be either grilled or baked.

Top Review by Len23
DH and I both really liked this- satisfied my love of sweet and his love of spicy. A little warm for my taste, but I might have gone a little overboard with the spices anyway. I'll definitely be making this one to impress the inlaws!
Preheat oven to 375 degrees.
Combine the paprika, chili powder, ancho, cumin, garlic powder, and brown sugar.
Place salmon on lightly sprayed baking dish or tray.
Sprinkle the fillets with the salt, then rub with the spice mixture.
Combine melted butter and maple syrup, then drizzle each fillet with a bit of the mixture; sprinkle each with a bit of green onion.
Bake for 10 to 12 minutes, or until it flakes with a fork.
Serve with rice or orzo pasta and steamed green vegetables like broccoli, gai lan (Chinese broccoli), bok choy, or green beans, drizzled with bottled fish or oyster sauce.
Note: ancho chile powder is available through many Latin markets or at Penzey's online. See http://www.penzeys.com/cgi-bin/penzeys/p-penzeysancho.html If you don't have ancho, but do have smoked Spanish paprika, try adding a bit of that! :).