Spiced Fruit Compote With Ricotta Cream
Chickee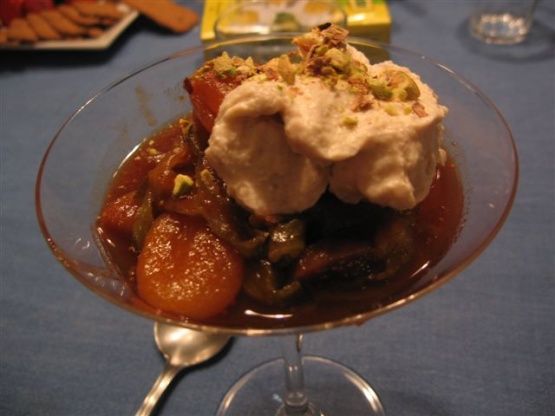 This is a lovely hot fruit salad for a winter's meal. Make sure you have the ricotta, otherwise it's too sweet. You can use any type of port or sweet wine I think, I've used part port part marsala and it was fine. Cook time does not include chill time.

VERY, VERY NICE DESSERT, THIS! I was a little intimidated with 3-4 ingredients that I don't normally have on hand, but it all actually came together without too much trouble, & taste of this compote is ABSOLUTELY GREAT! And, thanks, much, for the side recipe for the ricotta cream ~ I'm sure that will go well with other desserts, as well! [Tagged, made & reviewed in Make My Recipe]
Combine muscat, juices and sugar in a large pan, stir over heat without boiling until sugar dissolves. Bring to boil, simmer, uncovered without stirring for about 15 minutes or until mixture is thickened slightly.
Add carambola, dates, dried fruits, cinnamon, split vanilla bean, cardamom and rind to syrup, Simmer uncovered without stirring 10 minutes or until fruit is tender. Cool syrup, cover, refrigerate 3 hours or overnight. DIscard cinnamon sticks, cardamom and vanilla bean, Serve with ricotta cream and crushed pistachios.
Ricotta cream-.Beat cheese, icing sugar and cinnamon in small bowl with electric mixer until smooth. Stir in milk.