Bayhill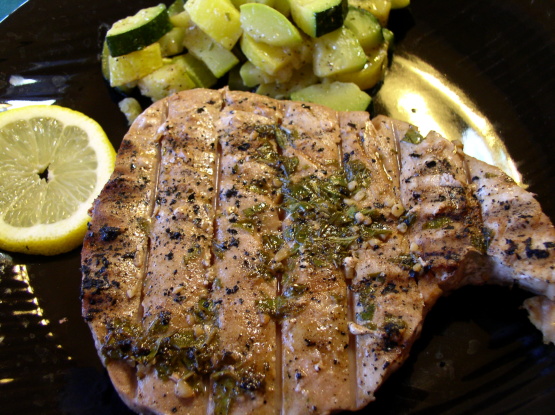 Heres a quick, very tasty and heathy recipe that might just become a favorite. This was designed for an outdoor grill but I use my broiler and it works fine. Ti leaves are in the ingredient list (to be served on) but the Zaar puter won't accept it. It was optional anyway.

Oh my Stars! This was fab-tab! My whole family hates fish, except my dad, anyways we had fish in our freezer that my dad brought home and something had to be done about them. So I made this fabulous recipe and everyone enjoyed them, even my mom who won't even get near any type of fish... alive, or cooked. This recipe is top on my list... in fact fish may be made next week!
Rinse fish and pat dry.
In a small mixing bowl combine lemon juice, garlic, basil, oil, soy sauce, Worcestershire sauce, and pepper, brush mixture over fish.
If desired, place fish fillets in a greased grill basket, turning thin ends under to make an even thickness.
Grill on the rack of an uncovered grill directly over medium coals.
Grill fillets 4 to 6 minutes per 1/2-inch thickness or until fish flakes easily when tested with a fork, brushing halfway through grilling with remaining sauce (If fish is 1 inch or thicker, turn halfway through grilling.)
Serve on ti leaves, with lemon wedge and grilled vegetables, if desired.
*Note: If using ti leaves, be sure they have not been sprayed or treated in a way that would make them unsafe for contact with food. Wash them thoroughly before using. Ti leaves can be used as garnish and as wrappers for steaming and grilling food. Although they are not toxic, they should not be eaten.