Spanish Tomato Bread With Jamón Serrano
Rita1652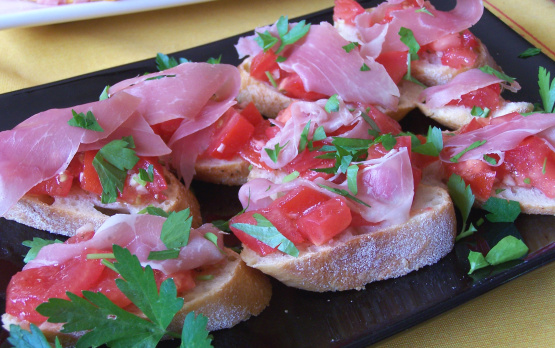 These tasty tapas snacks are ready in just 5 minutes, the perfect accompaniment for a drinks, tapas or summer cocktail party. Jamón serrano is a Spanish ham & similar to prosciutto - which you could use instead. Try to use sun ripened (not cold frame) tomatoes - they really make a huge difference to this recipe! This recipe serves 10 to 12 people, with other accompaniments on offer.

Gracias for treating me to such a natural and simple dish for my lunch today. I used vine tomatoes , Spanish olive oil and Serrano ham to really make me feel like I was having my lunch in Spain instead of slightly chilly London. It tasted as fresh as it looked. The only thing I might change next time is just to slice my baguette a bit thinner so I can get it more easily into my mouth without spilling any of those tasty tomatoes down my top. Made for the Chow Hound team for ZWT5.
Mix together the chopped tomatoes, garlic clove/s, olive oil, salt and pepper.
Keep the mixture in the fridge until needed.
To serve, toast the slices of baguette. Spoon a little tomato topping on to each piece of toast.
Tear the slices of jamón serrano into pieces and put one piece on each slice of bread.
Arrange on a large attractive plate, sprinkle with chopped basil or flat leaf parsley and eat!