Spaghetti Squash Sauteed With Shrimp
Boomette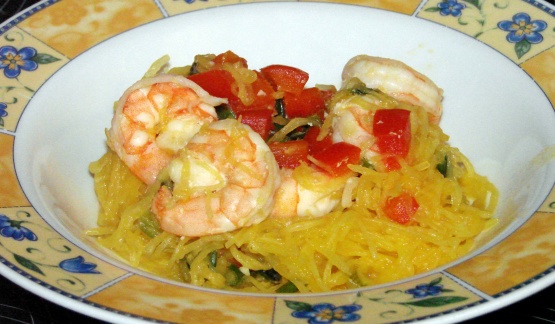 Yummy, healthier version of spaghetti! Shrimp and colorful peppers and onions add a summer feel to this dish my mother and I created one night. Quick with microwave, but if you prefer an oven, bake the squash halves at 350 for about an hour or until soft. Capers would make a good addition to this! Spaghetti sauce has great basic taste so it could be a healthier base to any pasta dish. Serves four for a delicious dinner or a side could serve 8-10.
1

medium spaghetti squash, cut in half

1

lb shrimp, without heads, deveined

1

garlic clove, mashed in garlic press (I used more, but start with 1)

1

colored pepper (I used an orange-yellow one, whatever suits you)

2 -4

tablespoons butter
salt and pepper
Place squash halves open side down on a microwave safe plate with seeds still in and microwave on high for 7-10 minutes, or until soft.
While squash is in microwave, chop the bell pepper, onions, and colored pepper.
Melt butter in a medium skillet over medium-high heat and saute garlic.
Add shrimp, onions, and both peppers and saute until shrimp are cooked.
Take squash out of microwave, remove seeds, and scrape out squash with a fork, creating "spaghetti.".
Transfer shrimp mixture to a bowl and place a plate over it to keep it hot.
Using the same pan the shrimp were cooked in, saute squash for a minute with a little butter and add salt and pepper.
Serve spaghetti, top with shrimp, and enjoy!