MC Baker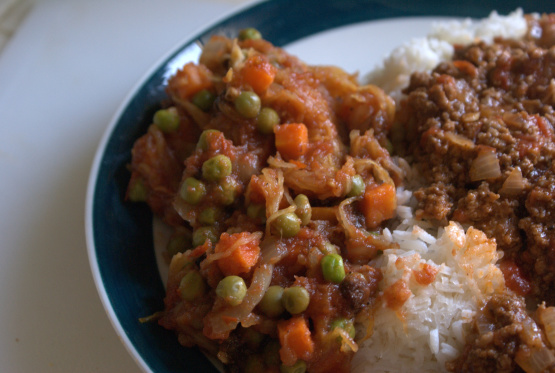 Great recipe from all-creatures.org.

This was an enjoyable dish, which I served as a side to Recipe #308948. As other reviewers said, the recipe yields a lot. However, perhaps my spaghetti squash was not as large as your typical squash, because I found that the squash noodles got lost in my sauce. Next time, I will make sure to choose a very large squash so that I can find it in the sauce. Like another reviewer, I too, did not have corn and substituted extra peas and carrots blend. I used golden raisins and a hot curry powder. I thought the dish was a little sweet for my taste and I might cut back a little on the cinnamon and raisins next time. I added a significant amount of garlic salt. Over all, I thought this was a nice dish, with good flavor, and I enjoyed this different way of preparing squash. Thanks!
First, microwave the spaghetti squash for about 20 minutes and get the "noodles" ready.
Place diced onion in a wok and add curry powder and cinnamon.
Add a little water and cook until onions are translucent.
Add tomatoes, corn, peas, and raisins and cook until sauce boils.
Add the spaghetti squash noodles to the sauce until well mixed and coated with sauce.
Time to cook the spaghetti squash is included in prep time.