Spaghetti Beef Casserole Bake
Boomette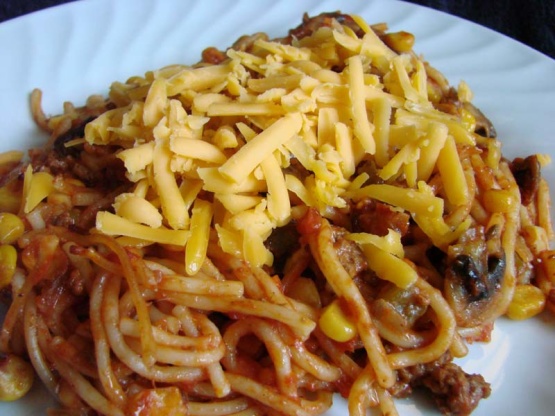 This is a great recipe to use up any leftover spaghetti, it's really tasty too, it is one of those "just throw in anything" type of casseroles.
Break the spaghetti into pieces, and boil until firm-tender about 10 minutes (do not over cook, leave firm!); drain.
Brown the ground beef with onion, garlic, green pepper and mushrooms; drain any fat.
Add in the remaining ingredients; simmer for about 5 minutes.
Mix in the cooked spaghetti.
Transfer to a large casserole dish.
Bake in a 325 oven for about 40-45 minutes.
If desired top with more grated cheddar or mozzarella cheese the last 15 minutes of baking.