Soy-Wasabi Shrimp and Scallop Skewers - Weight Watchers
teresas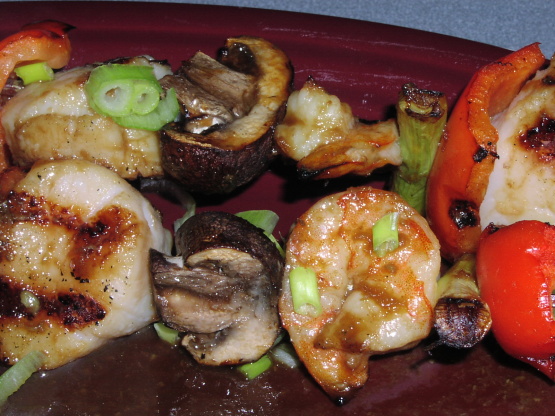 Easy seafood, and the skewers make portion control easy - 2 points per skewer, 2 skewers per serving. If you use wooden skewers, soak 'em for 30 minutes before using them so they're less likely to burn. Serve with jasmine rice and salted edamame (not included in Points.)

Yummy! The wasabi was more subtle than expected. I tripled the marinade. I used 1/3 for the skewers and the rest I thickened with cornstarch to make a sauce for the veggies and rice I made (edamame, carrots, snow peas, water chestnuts). Thank you - very good! :)
Preheat outdoor grill (or grill pan). Cut white and light green parts of scallions into sixteen 1-inch lengths; thinly slice darker green parts.
In a small bowl, stir together soy sauce, wasabi, honey and ginger root until blended.
Pour 1/4 cup of soy mixture into a large bowl; set remaining soy mixture aside. Add shrimp, scallops, pepper, mushrooms and 1-inch length scallions to bowl; toss to coat.
Alternately thread 2 pieces each of shrimp, scallops, pepper, mushrooms and scallions onto each of 8 ten-inch metal skewers. Lightly coat skewers with cooking spray.
Grill skewers, turning as needed, just until shrimp and scallops are cooked through, about 4 to 5 minutes. Remove to serving plates or platter and drizzle with reserved soy mixture. Sprinkle with sliced scallions and serve. Yields 2 skewers per serving.