vadapao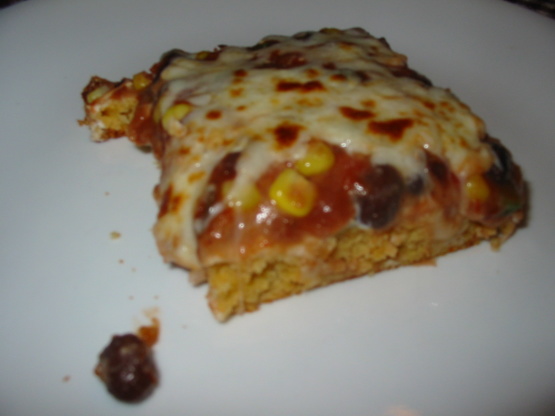 Credit goes to Caroline Grooms from Dickinson, North Dakota - Blue ribbon winner of the 2003 Country Woman Cooking Contest!

I am enjoying my third square of this right now! I LOVE the sour cream with taco seasoning combo. Next time I will use a larger pan, as the one I used was a bit small, so the crust was a bit thicker than I planned on. This has a fantastic combination of flavors. We used a fresh salsa so ended up having to drain it before putting that layer on. I didn't have corn, so had to leave it out, and we topped this with cilantro. Corn will be used next time, as I can imagine how good it would be... Thanks for sharing a great recipe! To the reviewer who used corn starch, I agree with jshaffer: corn starch is not a good sub for cornmeal at all. I think if you tried it with the coarser corn meal, you would enjoy this quite a bit more.
Combine dry ingredients for crust in a large bowl.
Combine milk, oil& egg in a separate bowl; stir into dry ingredients just until moistened.
Stir in the cheeses.
Spread into a greased 15 x 10 x 1 inch baking pan and bake in a preheated 400F for 10- 12 minutes or until a toothpick comes out clean.
Cook beef in a large skillet, over medium heat until no longer pink, about 10 minutes; drain off fat.
Stir in water& 1 envelope of taco seasoning.
Bring to a boil, reduce heat& simmer, uncovered, for 5 minutes.
Set aside.
Combine sour cream& 2nd package of taco seasoning in a small bowl; mix well.
Spread over crust.
Sprinkle beef mixture over top, followed by half of the cheese mixture.
Combine the corn, beans& salsa in a small bowl; spoon over pizza top, followed by the other half of the cheese mixture.
Broil 5- 6 inches from the heat for 5- 10 minutes or until the cheeses are melted.
Watch Carefully!