Souper Simple Tortellini Soup
KPD123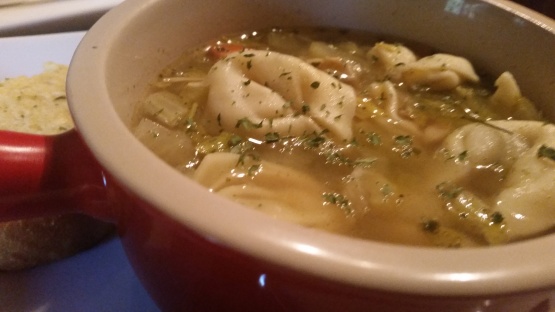 This is a delishious one-dish meal that can be whipped up in a jiffy. I usually try to get the Buitoni Herb Chicken Tortellini in the fresh pasta section, but sometimes I can't get it...in that case any tortellini works great! I've even used this recipe with different flavored raviolis, like spinach and cheese! It's an easy dish to play with whatever you have on hand!

This was really good and "souper" easy! It took no time to prepare which was nice because I am sick and really didn't feel like cooking. I used a cheese tortellini 'cause that's all I had on hand but I think next time I will try to find the chicken tortellini, that sounds really good. Thanks for such an easy and yummy soup kpd! UPDATE: I've made this soup a thousand times now and always use the Buitoni chicken and garlic. It's good with the cheese tortellini but GREAT with the chicken, it really adds a whole different depth of flavor. I definitely recommend the recipe this way. Thanks again KPD!
Saute onion, celery, carrots, and garlic in butter over medium heat until crisp-tender in a large stock pot or dutch oven.
Stir in water and boullion, and heat to boiling.
Add tortellini, and reduce heat to medium low.
Simmer 15-20 minutes or until tortellini are tender.
Stir in parsley, nutmeg, pepper. Sprinkle each bowl with cheese for garnish.